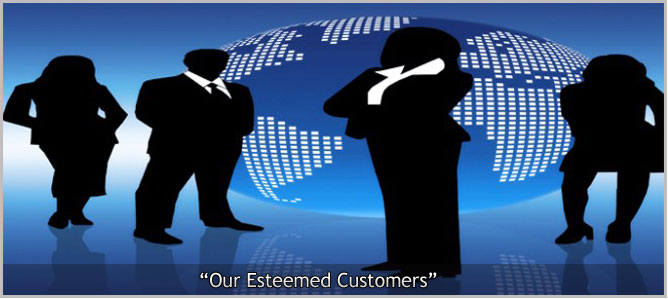 Clientele
DOMESTIC CUSTOMERS

Sr No.

Name

Location

1

M/S. PAWAN HANS HELICOPTERS LTD.

Mumbai

2

M/S. STANDARD RADIATORS LTD.

Baroda

3

M/S. GODREJ & BOYCE MFG. CO. LTD.

Mumbai

4

M/S. VITRUM GLASS – EMPIRE INDUSTRIES LTD.

Mumbai

5

M/S. BOROSIL GLASS LTD.

Mumbai

6

M/S. LUCAS ELECTRONICS.

Mumbai

7

M/S. HALDYN GLASS GUJARAT LTD.

Baroda

8

M/S. PARLE PRODUCTS PVT. LTD.

Mumbai

9

M/S. PARLE BISCUITS PVT. LTD.

Khopoli

10

M/S. VICTORY LUMINAIRES LTD.

Mumbai

11

M/S. JSW INDIA LTD.

Bellary

12

M/S. RUCHI SOYA INDUSTRIES LTD.

Indore

13

M/S. RUCHI SOYA INDUSTRIES LTD.

Patalganga

14

M/S. AVIATION TOOLING SYSTEM.

Delhi

15

M/S. TREVENI HI-TECH PVT. LTD.

Bangalore

16

M/S. TIGER STEEL ENGINEERING (INDIA) PVT. LTD.

Murbad

17

M/s. AIR INDIA LIMITED

Mumbai

18

M/S. GODREJ HERSEY LTD.

Mandideep

19

M/S. BHASKAR INDUSTRIES LIMITED

Mandideep

20

M/S. MSP METALLICS LIMITED.

Jharsuguda

21

M/S. KARNATAKA POWER CORPORATION LTD.

Bellary

22

M/S. UTTAM FOOD INFRASTRUCTURE PARK PVT. LTD. KHOPOLI

Khopoli

23

M/S. SILLCON INTERNATIONAL

Khopoli

24

M/S. JK COIL COATING PVT. LTD.

Khopoli

25

M/S. HYATT REGENCY HOTEL

Mumbai

26

M/S. DEEPAK FERTILIZERS & PETROCHEMICAL LTD.

Mumbai

27

M/S. ASHOK ELECTROMECH INDUSTRIES

Thane

28

M/S. HINDUSTAN COPPER LIMITED

Taloja

29

M/S. TECHNOVA IMAGING & SYSTEMS PVT. LTD.

Taloja

30

M/S. MICRO ENGINEERING

Vasai

31

M/S. NOBLE ENGINEERING

Vasai

OVERSEAS CUSTOMERS

Sr No.

Name

Location

1

M/S. IVORENE OIL SERVICES NIGERIA LIMITED

Nigeria

2

M/S. YATEEM OXYZEN

Bahrain

3

M/S. HORIZON AGENCIES & COMMERCIAL SERVICES (HACS)

Yemen

- Do you often face difficulty in getting spare parts for your machines?
- Are your machines obsolete?
- Do you spent lots of time in find the right manufacturing sources or Suppliers?
- Do you require an alternate compatible product for your application?

We globally source engineering product for all kinds of industries, where industries find acute need to search for the right manufacturer / supplier / products / obsolete parts & components. Procurement is made absolutely simple for any buyer, as they can get all kinds of indigenous and imported products at their door step through our company. The nature of product hardly matters, it can be Mechanical, Hydraulic, Pneumatic, Electrical, Electronics, Avionics and so on.